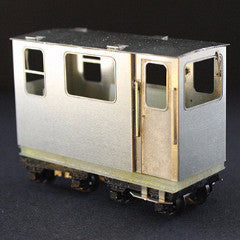 RNAD crew van
NPR-002

• by Narrow Planet
£28.00
About the kit
This kit is comprised of a 3D printed plastic underframe and interior, and an etched nickel silver body and additional detail parts. While we recommend soldered assembly of the metal parts of the kit, it is possible to glue it together.
Wheels and bogies are provided, these are Dundas Models items which require minimal modification to be carried out and extra details fitted.
Download full instructions (PDF)
Please note this is a scale model for adult collectors, and not intended for children under 14 years of age.
Prototype Info
These utilitarian vans were built by Hudson in the early 1980s for service on the extensive 2' 6" lines at RNAD munitions depots around the UK.
Following rationalisation of RNAD installations, disposal sales have resulted in many of these vehicles appearing on preserved lines around the country. Notable current locations include Amberley Museum, Leighton Buzzard and the Lynton & Barnstaple, Corris and Talyllyn Railways.