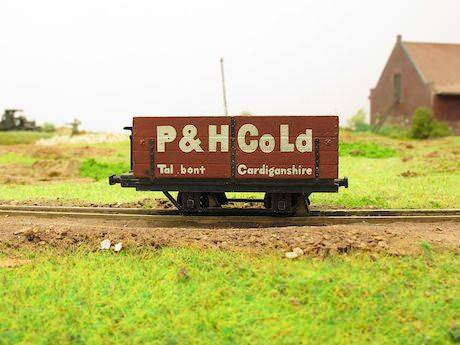 W.G. Bagnall Ltd. 4 wheel flat wagon with brake
MPM22

• by Meridian Models
£8.50
History
A standard off-the-shelf design from the Bagnall works, these wagons were supplied to a number of railways. The Plynlimon and Hafan Tramway had four of the 8 ton and fifteen of the similar 5 ton capacity design. The latter type were later re~gauged for the Vale of Rheidol contractors Pethick Bros. and later used by the railway company itself. A number of these wagons were in use on the Snailbeach District Railways as mineral wagons for the fluorspar traffic, some with their bodies taken off were used as flats and bolsters for the carriage of timber. One underframe formed the basis of the oil tanker.
NB: Standard MPM20 illustrated
Please note this is a scale model for adult collectors, and not intended for children under 14 years of age.