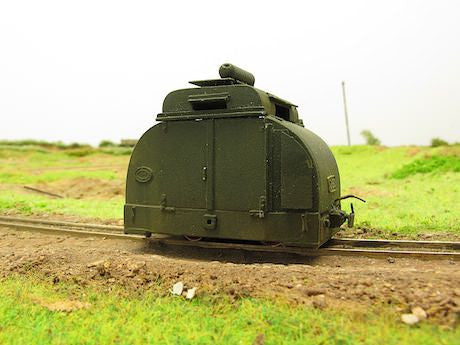 Motor Rail Simplex WD Petrol Tractor
MM15

• by Mosskito Narrow Gauge
£40.00
History
These locos have become more commonly known today as 'Simplex' and were constructed for the British War office for use on the forward area trench supply railway networks during the First World War, 1914-1918. The requirement was for a larger and more powerful loco than the existing 20HP open locos. Using common engine and under frame, three versions were built: OPEN (O) - without doors and fitted with a light roof; PROTECTED (P) - with a heavier roof, doors and side and end visors; ARMOURED (A) - with a fully enclosed body able to withstand small arms fire and shrapnel.
The protected variant was the most numerous type of this locomotive with over 200 examples built. Armoured locos as built numbered only 27 but a later conversion of open types increased this to an unknown total. After WW1 many, both in France and in storage in the UK, were sold off as surplus and used on industrial lines and in quarries, the most notable being the sand lines around Leighton Buzzard, Bedfordshire. Other users include the Ffestiniog Railway and Knostrop Sewage works in Leeds.
Currently (2007) a number of these preserved locos can be seen at: the Leighton Buzzard Narrow Gauge Railway, Beds (P) and (A), the latter under restoration; Duxford Museum, Cambridgeshire (P); Amberley Working Museum, West Sussex (O); the Ffestiniog Railway, Porthmadog, Gwynedd is home to 2 open Simplexes. A further protected loco is in the care of the Moseley Industrial Railway Trust and has visited several lines in the UK and France.
The name SIMPLEX is a trade name used by Motor Rail Ltd. for its loco series and later as part of its company name, Simplex Mechanical Handling Ltd. In 1987 the locomotive side of the business was taken over by Alan Keef Ltd., light railway engineers and loco builders who now supply new Simplex locos to the UK and export them for use around the world. We are grateful to Alan Keef Ltd for their permission to allow us to use the Simplex logo on our kits.
Bibliography
Recommended sources of inspiration and information:-
Light Railways of the First World War, Davies WJK, David & Charles
Narrow Gauge at War, Taylorson (Keith), Plateway Press
The Leighton Buzzard Light Railway, Davies WJK, Oakwood Press
About this kit
The castings and etched parts supplied in this kit will enable one loco of either 'armoured' or 'protected versions to be constructed.
The MPD18 drive unit kit (18MM wheelbase) has been developed for use with this kit in place of the originally specified Jouef chassis.
As an alternative the Tomytec HM-01 motor bogie can also fit, and an adaptor plate to suit is also available.
Download full instructions (PDF)
Please note this is a scale model for adult collectors, and not intended for children under 14 years of age.