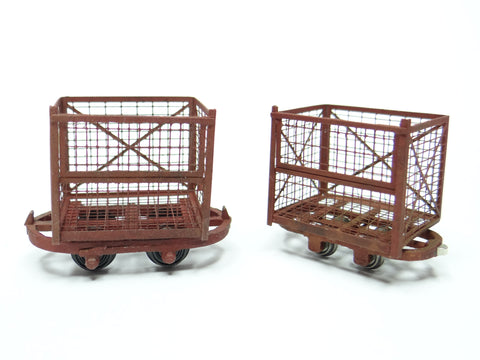 Peat wagons (2 pack)
NPR-004

• by Narrow Planet
£22.00
About the kit
This kit is comprised of an injection moulded plastic chassis and an etched nickel silver cage, and parts are included to build a pair of wagons.
Download full instructions (PDF)
Please note this is a scale model for adult collectors, and not intended for children under 14 years of age.
Prototype Info
Although not based on drawings of a specific wagon, this kit represents typical peat railway practice where the large mass of a peat load required a lightweight wagon suitable for roughly laid and often temporary track.
Availability
This kit is currently available from stock.
Postage
Postage is included for UK orders. For international orders shipping is at cost. Please note any local import duty or taxes that may be applied on delivery are the buyer's responsibility.