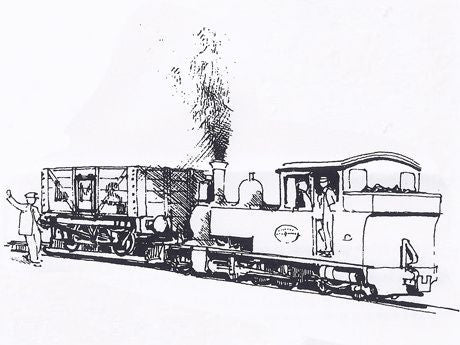 Kitson (L&M) 2-6-4T
MM9

• by Mosskito Narrow Gauge
£40.00
Illustration © Eric Leslie, courtesy of Oakwood Press
History
The white-metal castings supplied in this bodyline kit represent a Kitson & Company built design for the Leek and Manifold Light Railway This was a 2'-6" gauge line in the Derbyshire Peak district and ran between Waterhouses and Hulme End. The line was the only example of a railway in the United Kingdom built to the specifications of E.R. Calthrop who had constructed the Barsi Light Railway in India. The 'Manifold was also unique in having the only public railway use of` transporter wagons to allow the movement of` standard gauge wagons over the narrow gauge tracks to avoid the trans-shipment of goods. The Barsi Light Railway had very similar locos of an eight-coupled design. Kitson's widely exported their products to all corners of the world and locos with a family likeness were to be found as far apart as the island of Cyprus and the mountains of Bolivia.
This kit therefore lends itself to adaption and is most suited to British style layouts of a larger loading gauge or those based on colonial practice.
Bibliography
Recommended sources of inspiration and information:-
Leek and Manifold Light Railway S.C. Jenkins, M.A., Oakwood Press
Manifold Valley Railway; An Anthology Eric Leslie, Oakwood Press
Leek and Manifold Light Railway Lindsey Porter, Ashbourne Editions
Light Railway Construction, E.R. Calthrop C.E., (Reprint) Plateway
Press The Cyprus Government Light Railway B.S. Turner, Mechanical Engineering Pub.
009 News, Volume 29 Number 1, OO9 Society
About this kit
Centre Models originally supplied the parts of this kit in a model of the Leek & Manifold 2-6-4's, circa 1978. A chassis unit was supplied in kit form that was not considered by many as being "builder-friendly" and subsequently the kit was withdrawn from sale. The pattern work for the body was modified to accept an 'N' scale Minitrix 2-6-2 chassis but was never re-issued in this form. The casting for the footplate, part (1), has an opening for this and a boss for mounting the rear bogie. This part forms the base for the body and has sufficient metal and together with a capacious cab/bunker interior allows for cutting to fit a large six or eight coupled 'N' scaled chassis or if preferred a hand-built chassis of the correct design.
This body parts set is recommended for those with some previous experience of model building or to those with a fertile imagination and a large file!
As a suggestion we have also included instructions for an adaption of the body parts to make a Colonial style 2-8-2T as designed and built by Roger Christian.