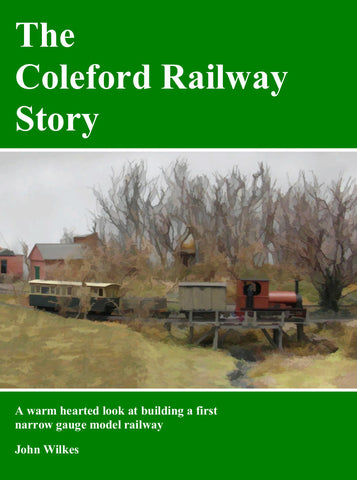 The Coleford Railway Story
JW1

• by Coleford by John Wilkes
£11.95
The Coleford Railway Story is John Wilkes' warm hearted book about building a first narrow gauge model railway.
Having been an "armchair modeller" for many years, John finally took the plunge and started building a model railway. In this book, packed with pictures and explanation, he describes how and where he started, the skills he developed along the way, and what he created. This is one man's account of the trials and tribulations, the joys and pleasures of modelling in 009.
Filled with insights and humorous observations. John gently leads us astray, but urges us all to "have a go".
With chapters covering the layout's history, design and construction, scenery and stock, as well as a guided tour and experiences of exhibiting, the book looks at the complete growing pains of a layout from birth to adolescence through to a slightly older adolescence ...
Richly illustrated with over 200 pictures, plans and drawings
"This could be the new influential NG modelling volume." - Chris Ford, Editor, 009 News
"Excellent value for money and thoroughly recommended whether you are a novice or a seasoned NG modeller." - Mick Thornton, 009 Roving Reporter
Download a preview of the book (PDF)
Postage
Postage is included for UK orders. For international orders shipping is at cost. Please note any local import duty or taxes that may be applied on delivery are the buyer's responsibility.