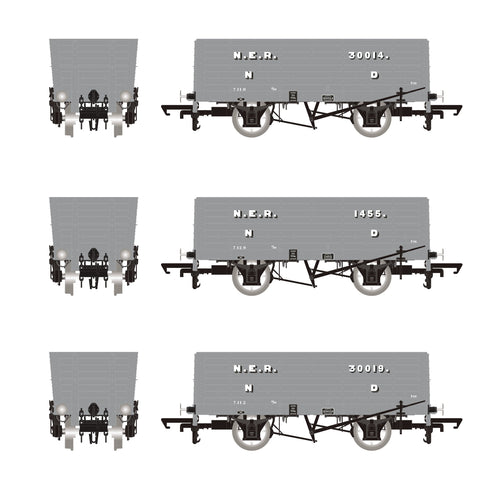 P6 Hopper - 1901-1904 Pre-Grouping: NER Grey - Triple Pack
ACC2817

• by Accurascale
£70.79
P6 Hopper - 1901-1904 Pre-Grouping: NER Grey - Triple Pack
8 plank, 15 ton Diagram P6.

Two types of end stanchion tooled: NER wooden or LNER metal 'T' bar type from 1925 onwards. After 1926, the bottom sections of any remaining wooden stanchions were removed.
Side chains were fitted to NER Northern Division examples until 1916 and have been catered for.
Five types of axle-box: 3A Grease, Iron-Oil S1 (9" x 4.25"), Iron-Oil S2 (9.5" x 4.25"), No.3 (10" x 5") & S4 single (10" x 5"), all of which have been tooled.
Differing brake arrangements tooled: Morton single shoe per wheel pattern brakes and Morton Cam pattern (diagonally opposed).
Handbrakes can be end, or side fitted, with two types of side handbrake arrangement catered for.
Body ends will feature the removed central section of bottom plank for Northern and Central Division incline hauled hoppers, as well as the Southern Division solid end.
OVERALL DESIGN SPECIFICATION
Die-cast metal chassis with plastic body.
Scale length of 80mm over headstocks for all four types, 30.67 wide for P6 and 32mm for P7, P8 and Q3.
Wheelbase of 42mm, allowing operation over a minimum radius of 371mm (1st radius set-track).
Tooling covers three different body designs, with regional and era variations for each.
Brake blocks fitted and aligned with wheels.
RP25.110 chemically blackened OO gauge split spoke wheels, set into blackened brass bearings and conforming to accurascale standards of 14.4mm back-to-back on 2mm axles over 26mm pinpoints.
Eroded metal, plastic and wire detail parts, including (but not limited to) handrails, grab handles, side-door handles, lamp brackets, brake gear, draw gear and anti-friction gear.
Representation of internal body detail
Turned metal sprung buffers.
Small tension locks fitted, set into small, self-centring NEM housings.
Authentic livery, markings and numbers, accurate to time period modelled.